Once in awhile, I bribe my niece (AM) into doing a photo shoot. This is usually when she's saving to buy something, and I consider paying her to do a little photo shoot is no different than her getting chore money from her parents. But I like to make it a little fun for her.
For instance, last year we did a shoot where AM wore her Hunger Games t-shirt and posed with her bow and arrow. I actually never shared those online. They were taken on color film, but the scans I received from the photo lab were pretty terrible. The colors just weren't right, and I didn't want to post photos of my niece where her beautiful skin and amazing red hair didn't look the way they should!
So I left the photos alone. I toyed with the idea of converting the photos to black and white on the computer. That idea never really went anywhere.
But then…
I was doing another photo shoot with my niece and remembered about the bow and arrow photos from last year. I decided to go ahead and make those photos black and white to see if that made me happier. And did it ever! I am in love with these photos now. I think I appreciate them even more than if I'd done this with them when they were originally taken.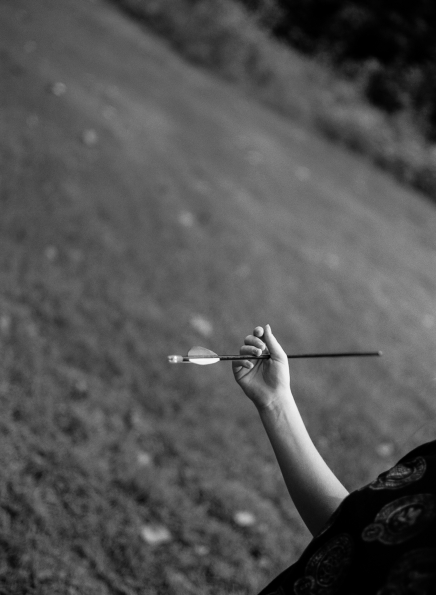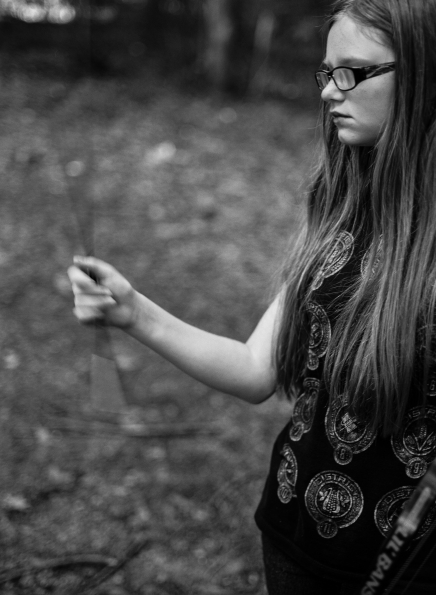 Bronica ETRSi •  Zenzanon MC 150mm/3.5 & Zenzanon 75mm/2.8 EII • Kodak Porta 160, converted to b&w
May 2013 (AM, age 11)