Susan and Scott's wedding day!
Susan and Scott's wedding was at Grace-St. Luke's in Memphis.  As Susan showed me around the church and the hall where their reception would be held, I asked her what she wanted from her wedding photos. Her reply was "Impressions of the day."  So impressions of the day were what I tried to deliver!
Susan's bouquet (later named "Bob") and the bridesmaids' bouquets 
Corsages for Susan's mother and those who read scripture/prayers during the service
Susan helping her mother get ready before the ceremony
Bride and groom portraits before the service
Scott's girls/Susan's bridesmaids, Sarah Grace and Shannon
More pre-wedding portraits of the wedding party
The bride made the bread they'd use for taking communion during the ceremony! 
Susan, looking over the wedding program
Susan and her mother
Rev. Lawson, the wedding's officiant 
Acolytes, preparing before the service 
Rev. Lawson, conversing with Sarah Grace and Susan
While the guest list was small, making the wedding an intimate affair, Grace-St. Luke's is a rather large church. The wedding guests were allowed to sit in the choir seats in the chancel (area around the alter) instead of the pews in the nave. I thought that was really awesome! Having a wedding in a large, beautiful space but with the feel of a smaller chapel with your friends and loved ones really close to you during the ceremony!
The ceremony
Yay! Married! 
The OBVIOUSLY happy couple
Getting the marriage license paperwork taken care of has never been so cute! Look at Susan!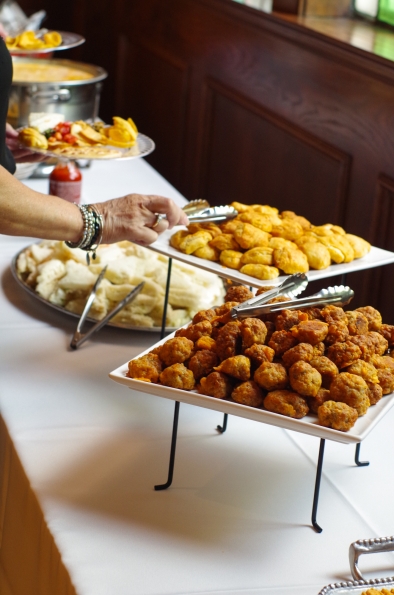 Reception noms
There's good ole Bob the Bouquet again
The BEAUTIFUL wedding cake (and tasty, too – I felt compelled to verify its deliciousness)
These young ladies clearly enjoyed themselves at the reception
Scott and Susan, with Susan's brother and his family
Time to cut that cake! 
First dance as husband and wife
Guests tearing up the dance floor at the reception
Photos with friends
I hope I gave Susan and Scott "impressions" of their wedding day with these photos. I also hope that everyone can see how truly happy everyone involved in the day was – from the bride and groom, to their good friends and family who were in attendance. Happy faces, all around! Congratulations, Susan and Scott!