After giving you a bit of a sneak peek with some film photos of the day, I'm so happy to finally share Jessica and Dustin's wedding photos with you!
Jessica and Dustin's wedding took place on a rainy Sunday afternoon at a FABULOUS venue in Memphis, The Atrium. And what a fun wedding day it was! 
I started the day photographing Dustin and his groomsmen. I think it's safe to say that they were enjoying themselves.
Then I got to go see JESSICA! She looked truly stunning.
Jessica's bridesmaids, her friend Madison and sister Rebecca, helped Jessica get ready in the pretty little private room at the Atrium
So cute! Jessica and her mom!
Jessica's nephew was the ring bearer/scene-stealer
Jessica gets a look at the room where her wedding will take place in a short while
More baby-chasing 😉 
Jessica pins on her father's boutonniere 
As I explained when I posted their engagement photos, Jessica and Dustin met at a drive-in movie. There were some fun nods to that on their wedding day. 
Guests arriving
The lovely trio who played for the ceremony
Dustin and his groomsmen, waiting for the ceremony to begin
Jessica's mom and nephew
Dustin hugging his mother before she takes her seat
"Wherein the baby tried to give the ring box to everyone as he walked down the aisle"
Such a sweet look on Dustin's face as he sees his bride enter the room
(and Rebecca's tears – it was very touching)
I loved how much laughter was shared during the ceremony! 
Exchanging rings
The kiss!
And now they're Dr. and Mrs. Temple! Jessica was excited.
Waiting to be announced at the reception
Hey! It's Dr. and Mrs. Temple!
It was hard to pare down the "first dance photos" to post here – I took a million because Jessica and Dustin were just precious as they danced to "All of Me"!
Cheers!
Enjoying the little ones during the reception
It wasn't long before the dancing commenced!
Time to toss the bouquet!
After the reception, the newlyweds' friends and family lined the steps leading out of The Atrium to bid them adieu.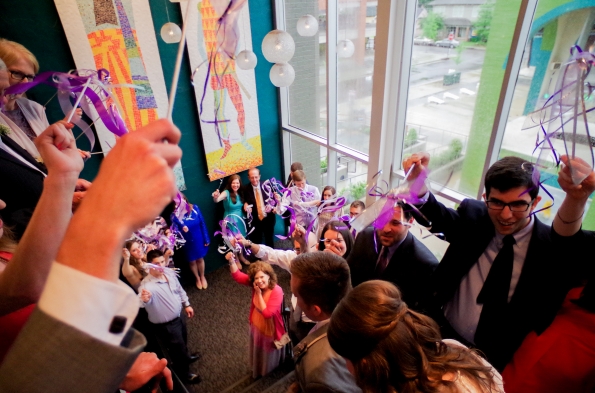 Byeeeeee Jessica and Dustin! 
Just kidding. They came right back and danced some more. 
More dancing ensued. Including a soul train line. I think a good time was had by all!
And then, with little fanfare, Dustin and Jessica were on their way. But there was also a group hug with their friend Dylan before they drove off to begin their lives as husband and wife.
Congratulations to Jessica and Dustin! It was a wonderful day, and I hope I was able to convey that with my photos!