I'm so excited to finally start sharing more photos from Kat and Thomas's wedding weekend!
The rehearsal dinner on Saturday night was at Cafe Keough, located in downtown Memphis. I'd never been to Cafe Keough before, but it was a great venue for the rehearsal dinner. I think everyone enjoyed themselves, and I hope that shows in the photos! Here are a few favorites from that night:
The soon-to-be married folks arrived and were immediately bombarded by nieces and nephews.
Also note: Kat is wearing yellow rain boots because we were experiencing a monsoon that weekend.

This is how loved the nieces and nephews are: Kat and Thomas brought them goodie bags
Playing with items they found in their goodie bags
So much going on in this photo. But Kat has the most expressive face
Kat's friends, posing for a group photo with a camera phone

I, of course, then took a photo of them with my camera

Kat chatting with the owner of Cafe Keough, Kevin Keough

Thomas and his mother Nancy


My FAVORITE, because Kat is just so smitten with the man she's about to marry
Getting the champs ready for the toasts
Then it was time for the toasts, which were full of heartwarming stories and well wishes for Kat and Thomas.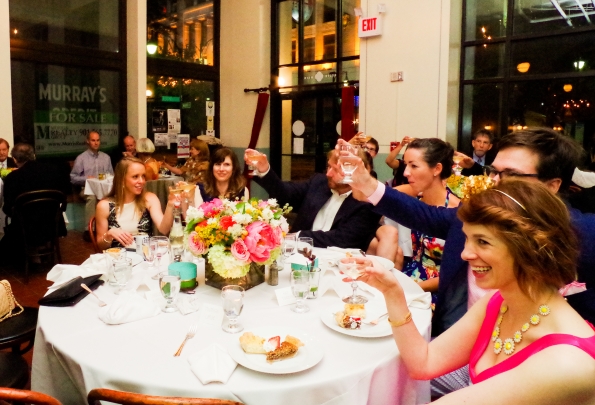 Everyone there will understand what I mean when I say, "And then this happened…"
Thomas with his siblings Andrew, Betsy, and Ginny
Kat with her brother Kip, his wife Tina, and their dad Wake
 I can't wait to share photos from Kat and Thomas's wedding day with you next! Watch this space!