I'm going to introduce you to Kayla today.  Kayla has lived here, there, and yon, being the child of a military family and all. She and I know one another because she lived here in the Mid-South for some years, and we ran in the same circles (hardcore circles.)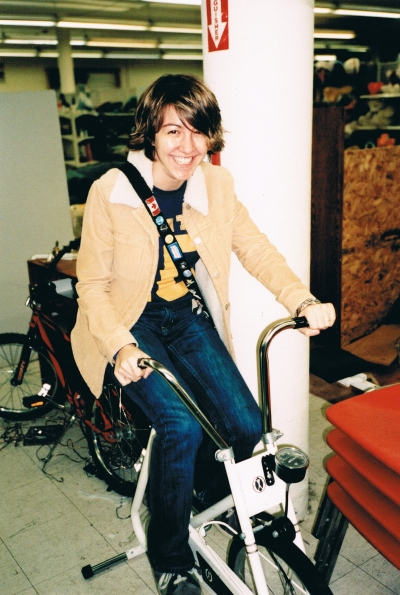 Flashback: Kayla, circa 2001/2002
Kayla and I hadn't seen each other in years. MANY years. That might have something to do with the fact that she lives in England now with her British hubby. Though it's been somewhere between 7 and 9 years since she and I have been in the same room, aren't we lucky that social networking has worked wonders for our ability to keep in touch? I love her Tweets about her life "over yonder" and her cute baking ventures (many of which are up on her blog!) There may be 4000+ miles between us, but I've still got an open invitation to come over to her house for a baking date!
During Kayla's most recent trip to 'merica, she and I reunited over brekkie at Brother Juniper's – my first time to hit that Memphis breakfast/brunch hot spot. It was awesome! Though I'm pretty sure our lengthy breakfast tête-à-tête nearly got us booted from our table! Are two and a half hour breakfast dates unusual??
Because Kayla's parents have relocated to the Midwest, she isn't sure how often she'll be able to visit Memphis when she is able to make an appearance stateside.  She wanted to do some "touristy" things before she left town this time. I was happy to tag along for this! We took a jaunt downtown to see the Peabody ducks, to stop in at some of the souvenir shops on Beale, and to peek into the windows of the pretty shops on South Main. Kayla's quest for just the right souvenir to take back to England for her husband led us to the Stax Museum – as well as to a new friend for Kayla and  my next opportunity to stare at Otis Redding's jacket.
I am utterly shocked that these were essentially the only photos committed to film during the day Kayla and I spent together – considering how she's photogenic and how our activities that day including many things that would fall into the category of being "photographically interesting." I just didn't feel like removing myself from "the moment" long enough to go into "documentary photographer" mode! Though there were too few frames of film spent on this glorious day, I think we really made 'em count! Playing the part of Memphis tourist was perfect fodder for some Polaroids taken with Impossible Project film! The perfect materials for tourist photos, in my humble opinion.
Oooooh, Memphis. A 1970 Caddy sitting in front of an establishment, advertising their brunch. There are normally a pair of longhorns attached to the front of the car, but someone took them off. No worries though, we were assured that the horns were back in the proper hands and WOULD be reattached. 
"What's your sign?" Pshaw! Kayla asks, "What's your punctuation mark?" Kayla actually felt like a semi-colon that day, but the camera turned her into more of an apostrophe. 
Luvbots
An unforgettable visit to the Stax Museum. Kayla's tattoos and my hair were dubbed "swagnificent."
I have to say that this was the ideal hang out session with a friend you haven't seen in years. We brought each other up to speed on our respective lives, we reminisced about the past, and we forged new memories together. Success! England really is "home" for Kayla now, but I think it's safe to say (in the words of Andrew Bryant) she "left her heart on the Tennessee border."
Now. I think it's MY turn to show up in Kayla's town and play tourist…
Anyone interested in raising funds through a "Send Amanda to England Bake Sale and Crafts Bazaar"??
🙂
(Polaroids were taken with the Polaroid Sun 660 AF and Impossible Project PX 680 Color Shade Gold Frame film)
Edited to add:
I had a roll of film in my Yashica Electro 35 GT the day Kayla and I spent together in Memphis. I didn't get it developed until September, three months after the photos were taken. Turns out I had committed just a few more frames of film to the day than just the Polaroids I originally posted here! Woo-hoo!