In September, I attended two weddings as a guest. I shared photos I'd taken at those weddings with my Samsung NX1100, but at Lea and Michael's wedding, I also brought along my Nikon EM and a roll of Kodak BW400CN.
Sara and Lea
Guestbook
Lea's love for Van Morrison…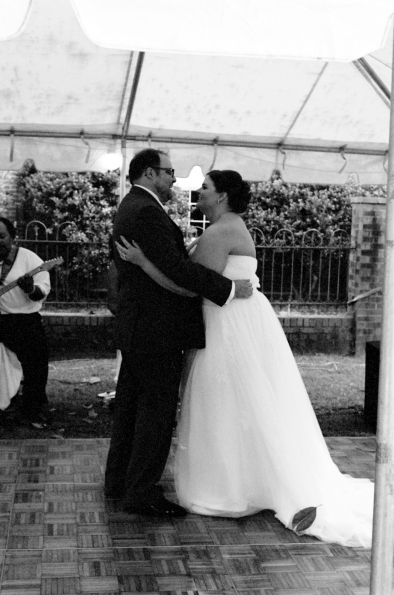 Michael and Lea were being upstaged during their first dance
I love this candid of Kadie and her fella
Karen and Mark: still lovey dovey after all these years
Two of my faves from the Muddy's gang: Hayley and Nicci
I knew we found the right place when I saw the lacy bunting on the fence. It's very much a "Lea" thing!
I  loved the light fixtures in the historic house where the wedding took place
Packet of birdseed for throwing at Lea and Michael when they left the reception
Needlepoint upon which the guests could write their well-wishes for the newlyweds
Lee Home • Columbus, MS
It was nice seeing these pictures so many months after they were taken. Memories of a lovely wedding for lovely couple.
Technical info: The photos came out EXTREMELY grainy because I shot the film at 1600 – meaning I gave it less light that it needed for good exposures – and had it push processed by the photo lab. Or at least I tried to have it push-processed. Many of them are so underexposed that I'm not sure if the lab really did process it the way I intended or if the Nikon EM's meter isn't sophisticated enough to deal with the lighting conditions.