Today I have for you the photos from Emily and Ethan's wedding day: May 11, 2013 • Como, Mississippi. Hooray!
You may have seen Emily and Ethan on the SWP blog a few months ago, when I took their engagement photos in Memphis. I was also asked to do their wedding photography, which I was thrilled about! They told me that it would be at Ethan's parents' home in Como, Mississippi and that it would be a very intimate ceremony, with only a handful of family members in attendance.  Because I'm quite familiar with Como – it's only about 15 miles from the town where my family lives – I had gotten it into my head that this wedding was taking place on a farm. I was thinking cows, bales of hay, a pasture…I could not have been more wrong! Ethan's parents' home is a 100 year old "rambling" house. It was gorgeous and a perfect setting for this wedding.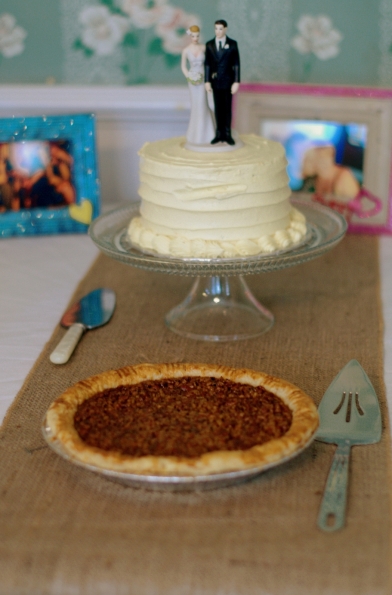 Wedding cake & cupcakes:  Lady Bugg Bakery • Groom's cake:  pecan pie from Muddy's Bake Shop
Emily's bouquet
A quote from Emily "Our ceremony stand featured photos of all of our grandparents who couldn't be with us in person, but they certainly were in spirit" ♥
I loved the wallpaper in this section of the house, and the pretty lavendar and green accents around the windows. This was the stairway leading upstairs, where Emily was getting ready for the ceremony
Getting help from her sister Jaime
Getting some love from her sister Amy
Emily's headband was BEAUTIFUL – a laurel leaf design, I believe
Here comes the bride! Escorted by her mom and dad.
Sooooooooo excited!!!
Super stoked to be pronounced "man and wife"
"You may kiss the bride!"
A celebratory recessional 
Stealing their first moment alone as husband and wife
For me, this gentleman stole the show: Ethan's grandfather, Gus. He was amazing! 
The precious Olivia, Ethan's niece. She was hilarious! 
After the ceremony was over, everyone just hung out around the lovely front porch. Such a relaxing wedding!
Time for cake!!!
Requisite: cutting the cake photo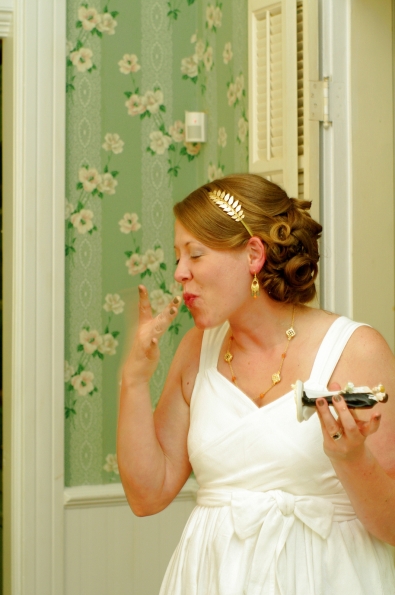 Soooooo cute!!!
Next came the group photos. As you'll see, I was dealing with a real cast of characters!
At this point, I'd said it was time for Emily's sisters Amy and Jaime to join us for the next set of photos. I sang "Sisters, sisters" from the a song that was in the movie White Christmas. Little did I know that the Bell sisters knew ALL the lyrics to this song and proceeded to sing it and do a little dance number. Apparently it was something they'd done before 😉 
The Bell sisters were having a BALL together
Ethan's side of the fam!
A few portraits of the bride and groom!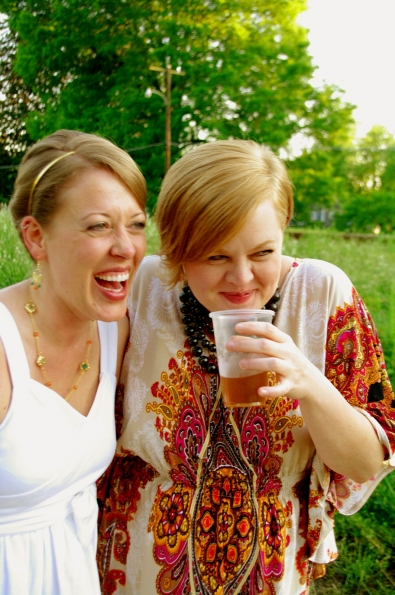 This is Emily with their friend Kimberly, who was the mischievous one who suggested we climb up to the railroad tracks for a few photos
Then there was more porch sittin' and a whole slew of toasts from friends and family. And there were, of course, lots of tears and laughs during the toasts.
Once the most of the guests were gone, the bridal party just spent the rest of the night visiting with each other and having impromptu dance parties
Family portrait: Mr. and Mrs. Ashby and their dogs Murray and Penny ♥
I want to thank Emily and Ethan for inviting me to document their wedding. I thoroughly enjoyed myself and hope their life together will be filled with much joy as they clearly felt that night.