I'm super happy to finally have the chance to write about Hope and Richard's wedding and to share some of their photos with you!
Hope and Richard's nuptials took place at Heritage Park Equestrian Center. Heritage Park was also the setting for Hope's bridal portraits, so I was already excited about having the opportunity to photograph their wedding there. The grounds are just BEAUTIFUL!
I spent the entire day of the wedding documenting the process, start to finish. That meant from the time Hope's bridal party began helping her get ready, to the moment the happy couple drove off to start their life together! And I did it all on four different photographic formats: digital, 35mm film, medium format film, and instant film. So many pictures!
I can tell you that, for my money, Hope should win the award for "Most Giddy Bride EVER"! You could just see that she was jumping for joy inside AND out the entire day.
As I mentioned when I posted their wedding Polaroids, Hope and Richard spent a little time together before the wedding. Though it was just a short amount of time, it was full of such sweets moment for the two of them on that busy day!
As a result of Richard and Hope seeing one another before the ceremony, we were able to do a ton of bridal party photos before the wedding got underway. Along with being fun to do, it really saved a lot of time post-ceremony so they were able to get to the reception as early as possible. But more on the reception later!
The time for the ceremony quickly approached, and all the elements were SO beautiful! Not the least of which was Hope, who made the sweetest bride.
We were blessed with beautiful weather for the ceremony, and it was perfectly timed to have really lovely light as the sun sank lower into the horizon.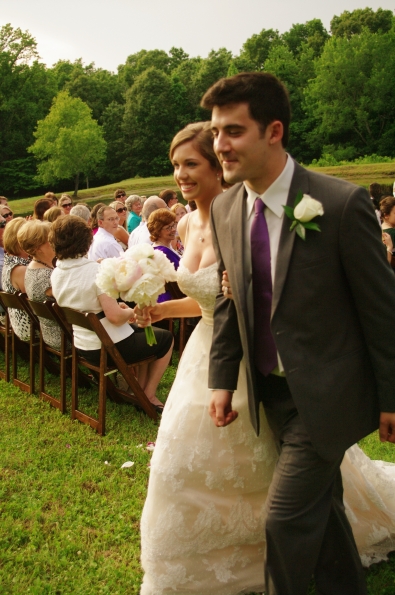 JUST JUST JUST married! The brand new Mrs. Dalton!
Pretty details from our post-ceremony photos with family and the bridal party.
Time to ride down to the reception!
Richard and Hope's first dance. Just look how happy these two are!
The reception theme was vintage travel, which was just perfect for Hope and Richard!
The reception was a darn great party! The new Mr. and Mrs. Dalton were having a ball, and I could tell they wanted all their guests to have the times of their lives, too.
The night ended with the guests lining the way from the reception hall to the "getaway car"  with lanterns that floated high into the night sky as they were released. What a spectacular way to end the night!
I truly enjoyed photographing this lovey dovey, super giddy bride and groom. Best wishes and all my love, Hope and Richard!